Hello!
Je sais, je sais, je suis pas là, je poste pas, je pue du cul, je sais, pardonnez-moi!
J'ai passé les deux semaines les plus crevantes de ma vie, à animer des petits bouts en jean basket et T-shirt "salissable" (après avoir fait une tache inconnue et indélébile sur un Tshirt American Vintage - les boules).
I know, I know, it's been a while since I last posted, shame on me! I've actually been working the past two weeks, so I really have no time or motivation, and I haven't been dressing in a "fashionable" or even stylish way for 15 days.
Cheap Monday sunglasses - 12 € (on sale)
MAIS c'est pas parce que je peux plus shopper en boutique que j'ai perdu mon aisance de click sur les shops online! A défaut de trouver le temps, la motivation, l'énergie de faire des photos des articles portés, voilà un aperçu de ma commande sur Urban Outfitters.
I may not have the time to shop in real shops, but I can still use my computer, and couldn't help myself from ordering a few items on Urban Outfitters. Here's a sneek peek of the order!
Silence+Noise skirt - 6 € (on sale)
Alors je suis très contente, les fringues sont cool, les tailles sont bonnes, les couleurs fidèles, les prix très intéressants, toussa toussa.
I'm very satisfied with the clothes, they look great, the sizes and the colours are okay, they're real bargains, everything's okay on this side.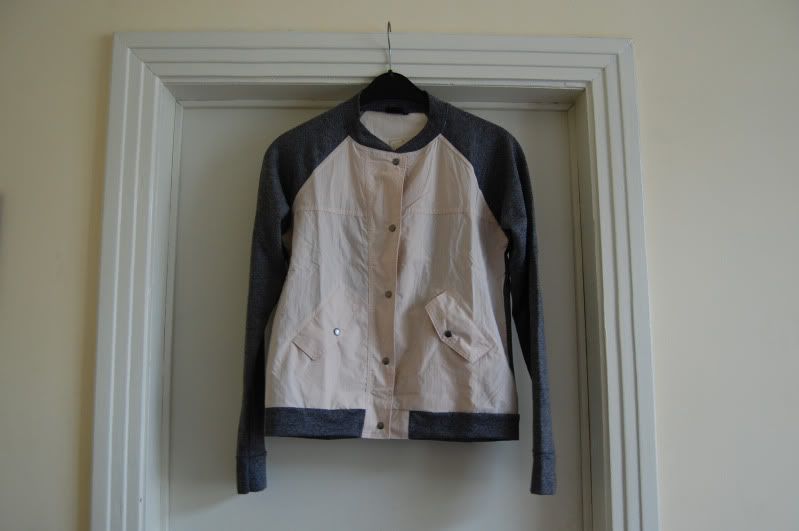 Sparkle & Fade bomber jacket - 14,95 €
MAIS gros coup de gueule pour la livraison! Je m'explique: déjà, tu choisis pas, tu habites en Europe de l'ouest? Tu raques 13 euros, ben ouais. Bon, là, tu te dis de toute façon j'ai pas le choix, mais ils annoncent une livraison en 2-3 jours, donc au moins ça vaut le prix quoi. Sauf qu'en fait, tu reçois un mail 2 jours plus tard (soit celui où tu espérais recevoir ton colis) qui te dit "merci de votre commande, votre colis est à la poste, il va bientôt partir". Euh? Pardon? Donc en fait la livraison en 2-3 jours est une livraison en 4-5 jours. Merci les gars, sur Asos ça coûte 6 euros. Bref! Juste pour que vous sachiez parce que sur le coup ça m'a bien saoulée.
BUT I have to tell you I've been very disappointed by the delivery system! Let me explain myself: first, if you live in western Europe, you don't have any choice, you HAVE TO pay 13 euros. BAM. Well, as you don't have the choice, you try to consolate yourself seeing that it's a 2-3 days delivery. Oh, no. Don't be so naïve: after 2 days, you receive an e-mail from them, saying "thank you for your order, your package has been sent to the postal service, it's ready to go". Eerrrr what? So actually the 2-3 days delivery is a 4-5 days delivery. Thanks UO, that's a 6 euros delivery on Asos. Anyway, I just wanted to let you know about that, cause it really pissed me off.
Des photos de look très vite! Bisous :)
I'll post outfit pictures veeeerrry soon! Bisous :)