Aujourd'hui, mon blog a un an! Je l'ai créé le 30 août 2009, alors que je m'ennuyais...l'histoire classique!
Là, un an plus tard, le bilan est très positif: des chouettes rencontres, quelques projets plutôt sympas, un accueil de la part des lectrices plus qu'adorable... Puis, surtout, j'ai enfin trouvé un endroit pour partager tout ce qui déborde de ma tête!
Today is my blog's first birthday! Yayy!! I created it on the 30th of August in 2009, as I was bored...classic! So, yes, one year...
It's been twelve great months: I met great people, I have amazing readers and comments, and most important, I found a place to share everything that couldn't fit in my head!
Alors merci, merci à vous qui me faites tellement de bien, vous qui me lisez et me commentez depuis un an! J'espère que ça durera!
So thanks a lot to each and every one of you, it's been so great, and I hope it will last!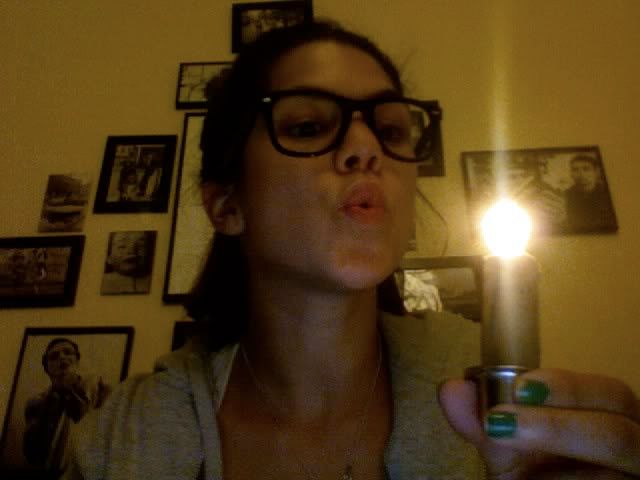 Pour fêter ce premier anniversaire, vous aurez sans doute remarqué que j'ai complètement changé le design du blog. Il reste encore 2-3 trucs à arranger, ça va sûrement changer encore un peu, mais en gros c'est le nouveau visage de Simple & Funky! Dites-moi ce que vous en pensez! Mon but c'était évidemment de changer un peu mais surtout de rendre le blog plus agréable à parcourir pour vous, donc n'hésitez pas à donner votre avis.
J'ai également ajouté deux rubriques, About Me et Wish List, je vous laisse découvrir ça!
To celebrate that first birthday, I think you noticed I've completely changed the design of the blog. There are a few things left to arrange, but basically, this is the new face of Simple & Funky! Please tell me what you think about it! I wanted to make it more comfortable and, let's say, ergonomic for you readers so please tell me if it is!
I also added two new categories, About Me and Wish List, I'll let you discover these!
Plein de bises, à bientôt avec de la tenue (cette fois pour de vrai)!
Lots of love, I'll be back very soon with an outfit (I swear, this time)!