Comme promis, voici mes coups de coeur du défilé de la Cambre qui a eu lieu le week-end dernier.
Je vous préviens, y'a du lourd!
As I promised last Sunday, here are my favourites from last weekend's La Cambre fashion show 2010. I'm telling you, these people are good!
On commence fort avec Luca Sponchiado (4e année), qui a présenté une collection très structurée, travaillée, avec une maîtrise incroyable des matières et des volumes qui n'est pas sans rappeler certains codes de chez Balenciaga.
Let's start with Luca Sponchiado (4th year), who presented a very structured collection, featuring fabrics and volumes that reminded me a bit of Balenciaga.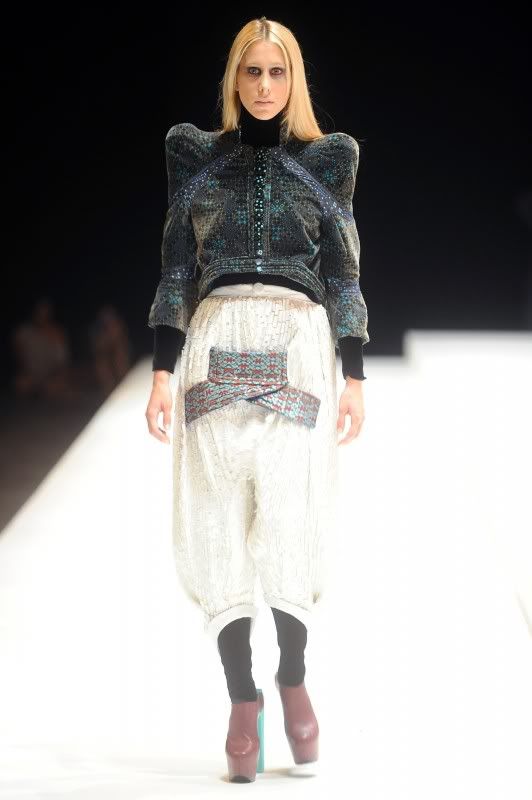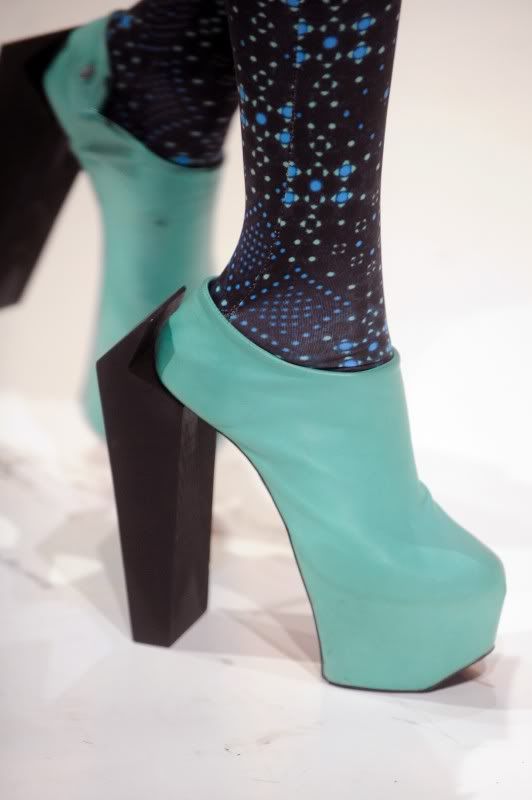 Partons ensuite du côté des 3e année, dont la consigne était de dessiner une collection pour hommes, et de la mettre en scène de manière originale et chorégraphiée. On a donc eu droit à des danses, des titubements, des affrontements et même une course. Gros coup de coeur pour Dorianne Van Overeem et sa collection très simple, très inspirée, audacieux mélange entre homme moderne et homme des cavernes. Il fallait le faire, c'était très réussi!
Now, let's talk about the 3d year: their instructions were to create a men's collection and to choreograph it in an original way. There were dance moves, fights, zigzags and even runs.
I really had a crush on Dorianne Van Overeem's collection, which was very simple and inspired, an audacious mix between the modern man and the caveman.
Chez Gervaise Gournay, énorme flash sur le pantalon kaki sanglé. ENORME. Je n'ai pas pu en détacher les yeux, et maintenant il m'obsède!
Le reste de la collection était très chouette aussi, des matières fluides, de la grosse maille, c'est tout ce que j'aime.
MAJOR CRUSH! Gervaise Gournay made these khaki strapped trousers, which I totally fell in love with. They've become a real obsession, I couldn't get my eyes off of them!
The rest of the collection was great, too, with nice fabrics and knit...I'm loving it!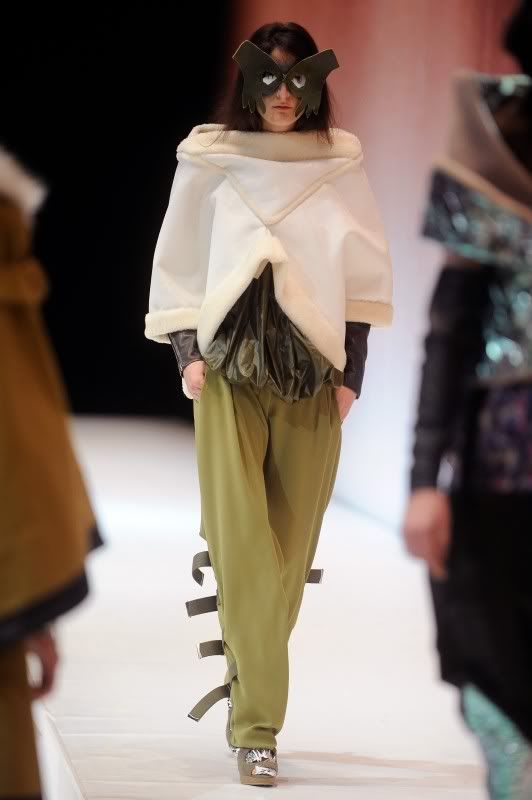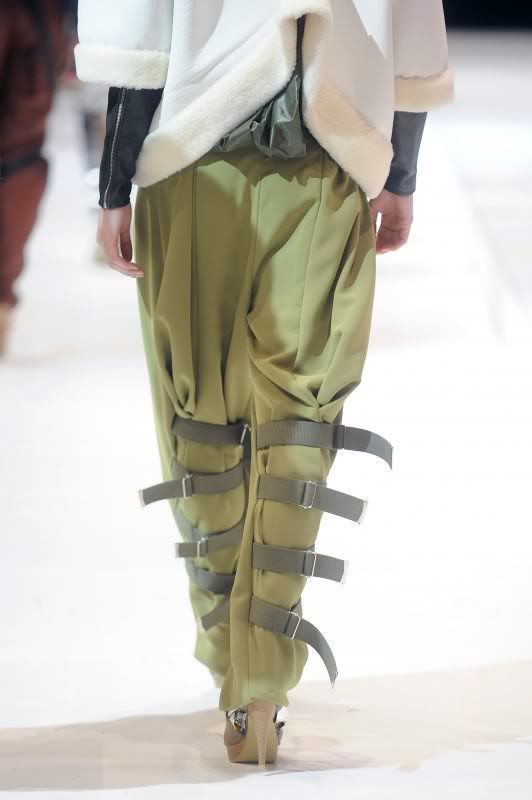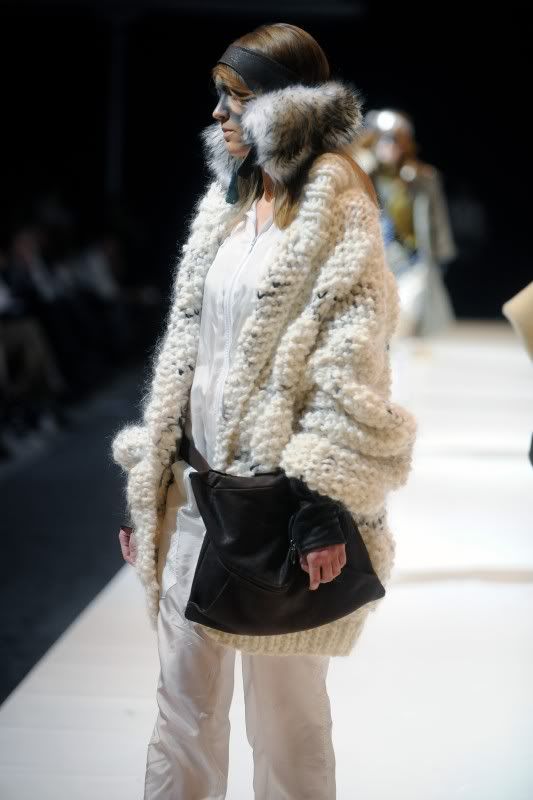 Séraphine d'Oultremont (4e), elle, est partie sur des bases beaucoup plus colorées. Bien qu'à priori, ce n'est pas vraiment ma tasse de thé, j'ai vraiment adoré certaines pièces, dont le pantalon multicolore et la robe "arc-en-ciel pastel". J'ai aussi beaucoup aimé les cheveux et leurs racines colorées, le trait jaune sur la crinière brune, magnifique!
Séraphine d'Oultremont (4th year) decided to go on rainbow colours. This is normally not what I like, but these colourful pants and that pastel dress, they're to die for. I also loved what she decided to do with the model's hair, especially the yellow stripe on dark brown long hair.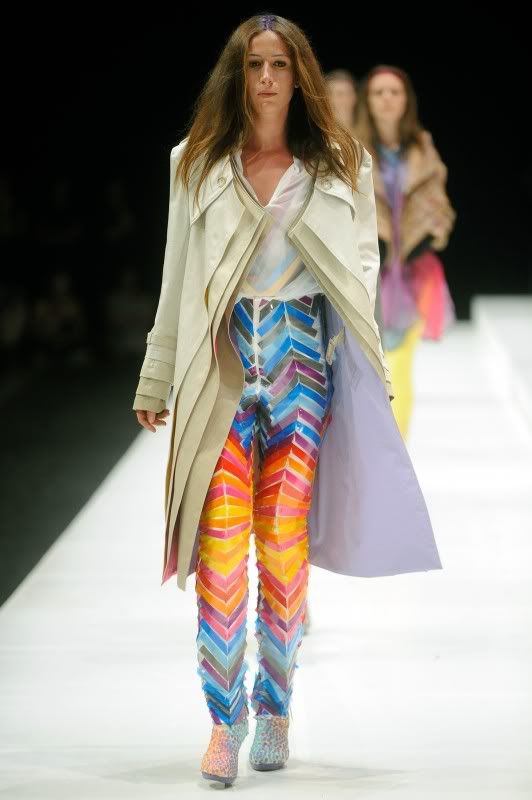 Raphaëlle H'Limi (5e année), pour laquelle mes copines défilaient, a été très inspirée aussi: elle a proposé une collection très girly, entre Luella et Sonia Rykiel, avec un grain de folie mais aussi une technique incroyable.
My friends were modelling for the talented Raphaëlle H'Limi (5th year), who showed a very girly collection, between Luella and Sonia Rykiel.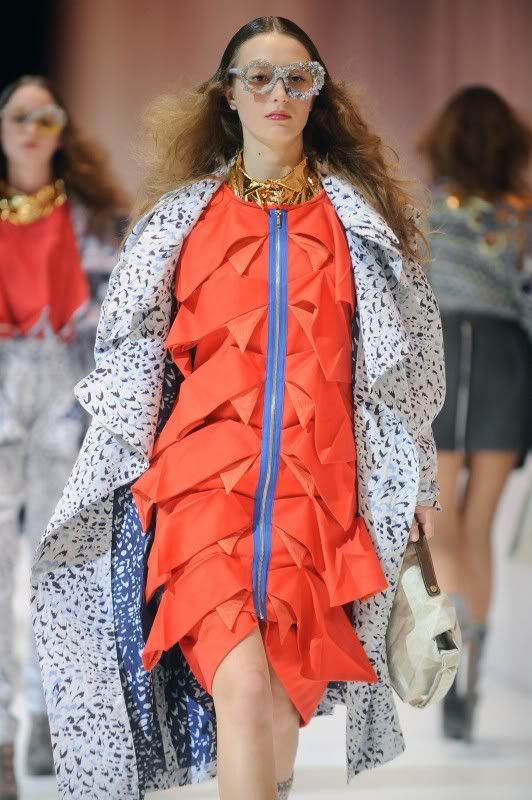 Ah, et pour les amatrices de PS1 et autres Alexa...
Oh, and for the PS1 and other Alexa satchel fans...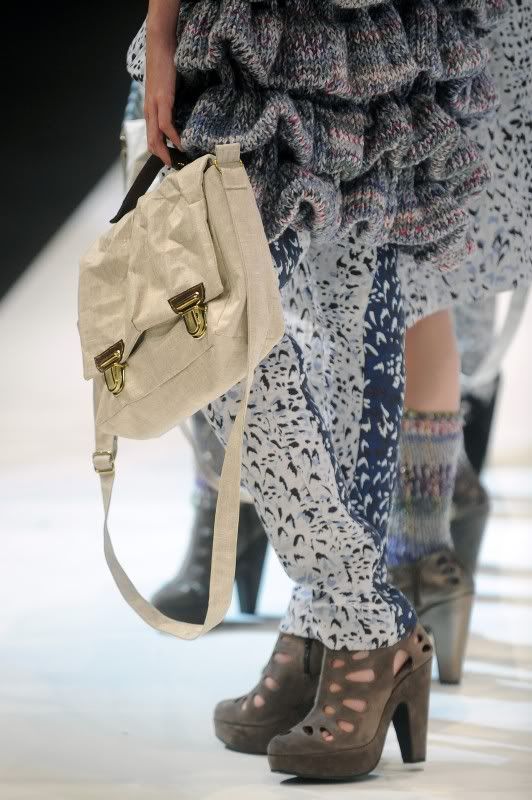 Oriane Leclercq (5e année) est partie sur un esprit beaucoup plus rock: compensées open-toe, léopard, franges, cuir, zips... j'ai tout adoré, mais voici mes pièces favorites:
Oriane Leclercq (5th year)'s collection was a lot more rock: open-toe wedges, leopard prints, fringes, leather, zips...I absolutely loved everything, but here are my favourites:
On finit ce long post avec Margaux Bolle (5e année) et ses vêtements-miroir. Franchement, dès que la première silhouette a fait son apparition, j'ai poussé des petits cris! J'adore, j'adore, rien d'autre à dire. J'aimerais pouvoir faire ça moi-même sur un legging, donc si quelqu'un a envie de m'expliquer le procédé, allez-y, lâchez-vous!
And, last but not least, the 5th year student Margaux Bolle and her shiny metal decorations. To be honest, I started screaming as soon as I had seen the first model coming on the catwalk. I had a major crush on the trousers, and I'd love to DIY shiny metal leggings, so if anyone feels like explaining me how to do...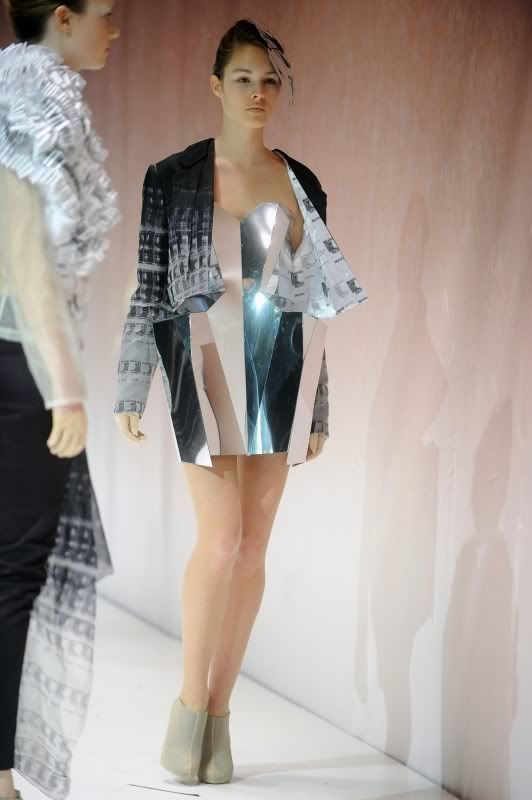 Voilà voilà, c'est tout pour aujourd'hui (et c'est déjà pas mal)! J'espère vous avoir fait découvrir de jeunes talents, à mon avis on va en entendre parler assez vite!
Si ça vous a donné envie, je vous dis rendez-vous dans un an pour le défilé 2011 qui, à mon avis, réserve encore quelques bonnes surprises!
Toutes les photos viennent du
Vif Weekend
,
si vous avez envie de découvrir l'entièreté des collections
proposées par les 3e, 4e et 5e années, c'est
ici
!
Well, that's it! I hope you enjoyed these young talents, I'm sure you'll hear about them soon!
If these pictures made you want to come, I'll see you next year for the 2011 show!
All the pictures are from
Vif Weekend
, if you want to discover more,
go on the website
to see all the pictures from the 3d, 4th and 5th years!
Bisous, à très vite pour du look!
See you soon for an outfit post!