J'arrive pas à croire qu'au moment où j'écris, je porte des collants hyper épais, alors qu'il y a à peine 10 jours j'étais en short-sandales.
I can't believe I'm wearing tights right now, when only 10 days ago, I was wearing sandals and shorts.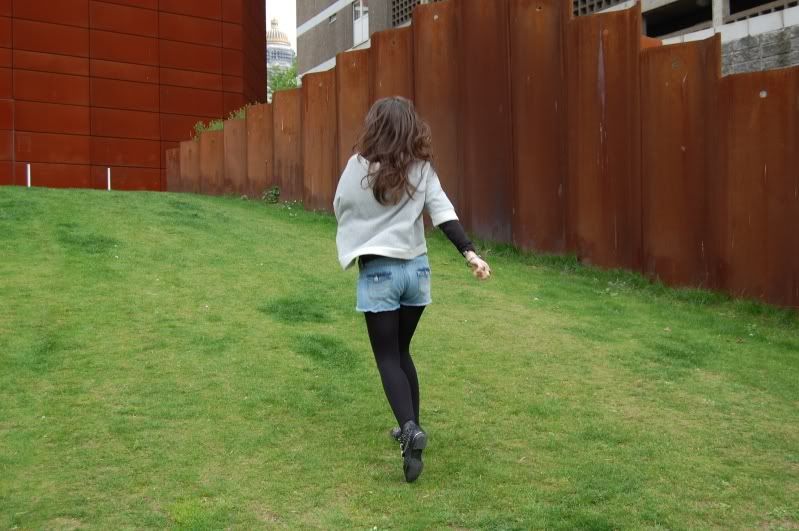 Et puis quoi encore, la rentrée, les feuilles qui tombent et Halloween?? Non mais ça va pas ou quoi? Hé ho, le ciel, là, tu nous mettrais pas un peu du temps de mai? Stp? Oui? Non?
En plus forcément hein, vu que je refuse de mettre le chauffage en MAI et que je refuse de porter des vêtements d'hiver et tout, ben je suis malade. La crève. C'est une maladie de mai, ça, peut-être? Non, je devrais être en train de pester contre le pollen!
Now what, going back to school, leaves falling from trees and Halloween? Really? Hey, please Mr skyyy, would you mind putting on some May weather? Please? Yes? No?
And of course, as I decided I wasn't going to turn the heat on in MAY, and as I refuse to wear winter clothes, I have a cold. A cold, is that a MAY illness? No, of course, that doesn't make sense, I should be pissed at the pollen counts instead!
(oui, je sais, cette pose est trop chelou, ne me demandez pas, je ne sais même pas ce que j'étais en train de faire)
Sweat//Sweater Zara
Short en jean//Jean Shorts Primark
Bottines//Shoes Sacha