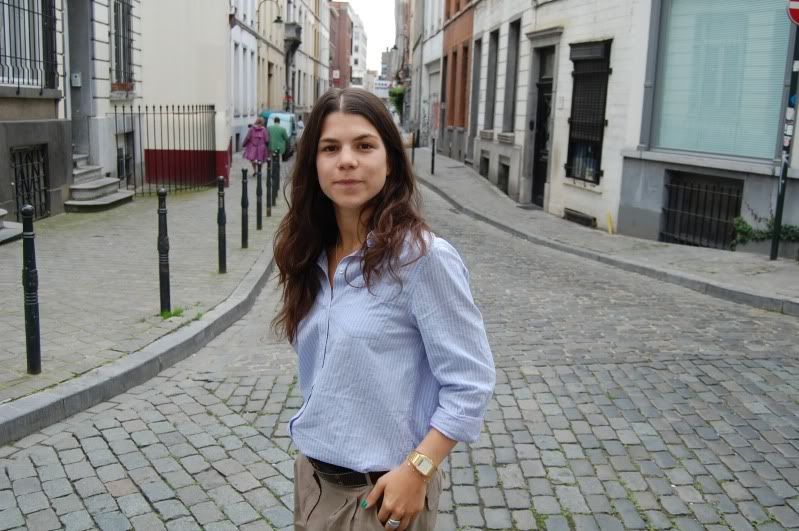 Je ne porte jamais de chemise. Je crois qu'avant celle-ci, je n'en avais pas dans ma garde-robes. Je trouvais toujours que ce n'était "pas de mon âge", que ça me donnait l'air trop classique, trop working girl.
I never wear shirts. Before this one, I didn't even own one. I always thought I was too young for that...I thought that they looked too serious, too classic, too "working girl".
Mais voilà, dans six mois, je serai sur le marché du travail! Alors quand j'ai vu Daria Werbowy porter cette chemise, sous-titrée 9,90 euros, je l'ai essayée. "C'est pas perdu!", je me suis dit.
But in six months, I'll be working - for real! I'll be a working girl... So when I saw Daria Werbowy wearing that 9,90 euro-shirt, I tried it on. "Even if I don't wear it, it's only 10 euros", I thought.
Eh ben devinez quoi: j'adore. Je l'ai déjà portée trois fois, je me sens bien dedans. Je ne vais pas pour autant changer de look, mais j'ai enfin compris ce qu'une chemise a d'indispensable dans un dressing! Entretiens...me voilà!
Well, guess what: I love it! I've already been wearing it three times (and enjoyed it, thanks)! Don't worry, I'm not going to change my style and become fully "classic-traditionnal", but I guess now I know why they say shirts is a must-have. Interviews, here I come!
Chemise//Shirt H&M
Pantalon//Trousers H&M (old)
Ballerines//Ballet Flats H&M
(Mon chéri essaye de faire une photo "artistique" haha)