Aaaaahhhh, les vacances!
Aaahhh, HOLIDAYS!
En plus, j'ai de la chance, depuis que je suis en vacances, le beau temps est revenu, du coup je profite pleinement de mon temps libre...
Hier, dîner arrosé, aujourd'hui glande, foot et ballade...
And I'm lucky, the weather has been so beautiful since I'm done with my exams!
Yesterday I had a great dinner with friends, today was all about farniente, football and wandering in sunny Brussels...
...et hamburger maison!
...and my famous homemade hamburger!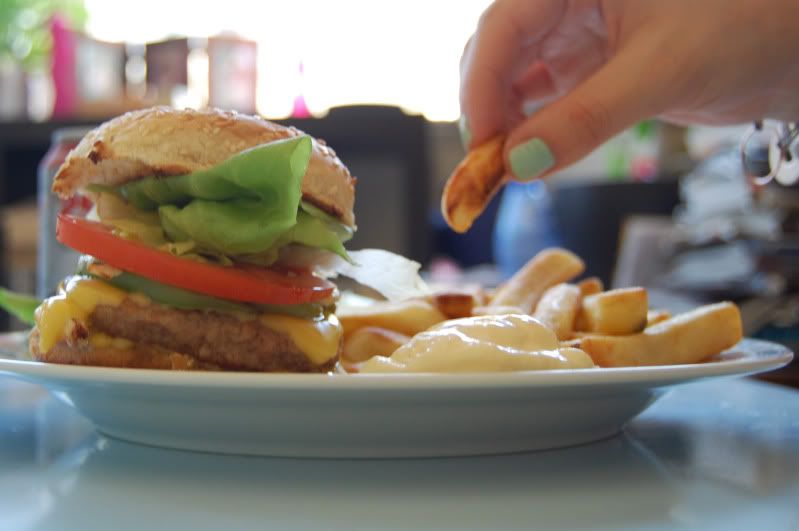 J'ai cru comprendre que c'était la mode en ce moment de manger des burgers, à vrai dire j'ai toujours adoré ça mais ça me déculpabilise de voir que tout le monde s'en envoie!
Avant je passais ma vie au Quick/Mc Do, puis j'ai décidé de m'y mettre et en 6 mois j'ai pu élaborer le meilleur burger du monde! Bon, ok, peut-être pas le meilleur, mais j'en suis quand même assez fière...
I think it's kind of fashionable to love hamburgers, and to be honest I've always been into them, but I don't feel guilty anymore, as everyone's eating a lot of them now!
I used to go to Mc Donalds every week, then I decided I could try to do some myself...and guess what? I ended up making the best burger in the world. Well, maybe it's not the best, but I'm very proud of it!
Donc, après le burger, j'ai accompagné mon homme qui avait envie de faire un coup de skate, du coup on s'est un peu balladé dans Bruxelles, et c'est une ville tellement agréable quand il fait bon!
After the burger, I decided to go walking with my boyfriend, who wanted to do a bit of skateboard...Brussels is so great when it's sunny like that!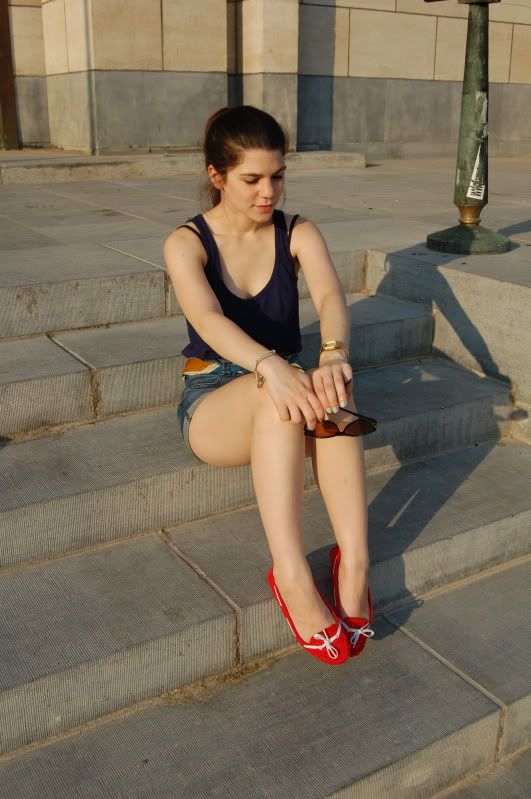 Débardeur//Tank Top Sandro pour Biba
Short//Shorts H&M
Mocassins//Loafers Primark
Lunettes//Sunglasses Vintage
Foulard//Scarf Vintage
Le reste de la semaine s'annonce mouvementé, à base de soirées et donc de journées spéciales gueules de bois... mais je ne vous oublie pas!
Bisous!!
The next few days are going to be intense, I've got plans for every night, so that means a lot of hangovers... but I won't forget you!
xoxo!!